Daimler Trucks North America Honors Deserving Red Cross Volunteers
The year 2017 was unprecedented. Deadly
wildfires, record hurricanes and a train derailment kept hundreds of local Red
Cross volunteers and employees responding to these major disasters throughout
the country.
There was no downtime for
our Cascades Region responders who were deployed at the Oregon and California
wildfires; Hurricanes Harvey, Irma, Maria and Nate; as well as the flooding and
storms throughout the Midwest and American South.
Our responders were also deployed to the U.S.
Virgin Islands and Puerto Rico.
For most Red Cross volunteers, it was truly
an exhausting and yet exhilarating time.
One volunteer, Ron Burby, was deployed to help drive Emergency Response
Vehicles (ERVs) across the country. "I was new to the Red Cross in 2017, so I
had no idea that it would feel so good and be such a rewarding experience to
help people," he said.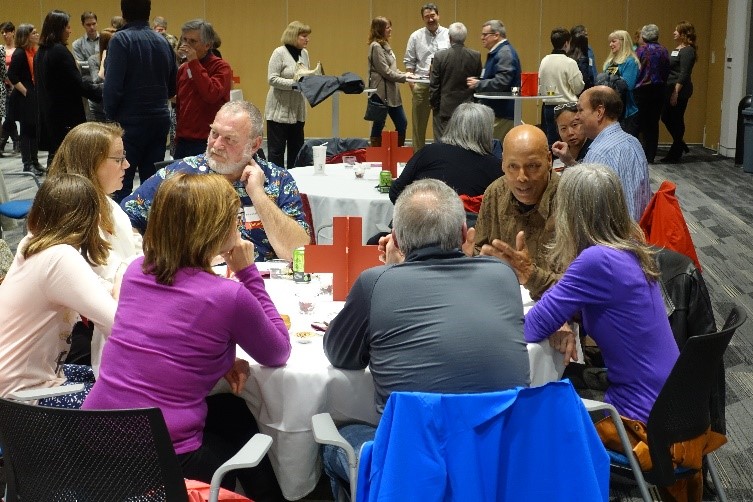 Volunteers Exchanging Stories at the Daimler Appreciation Event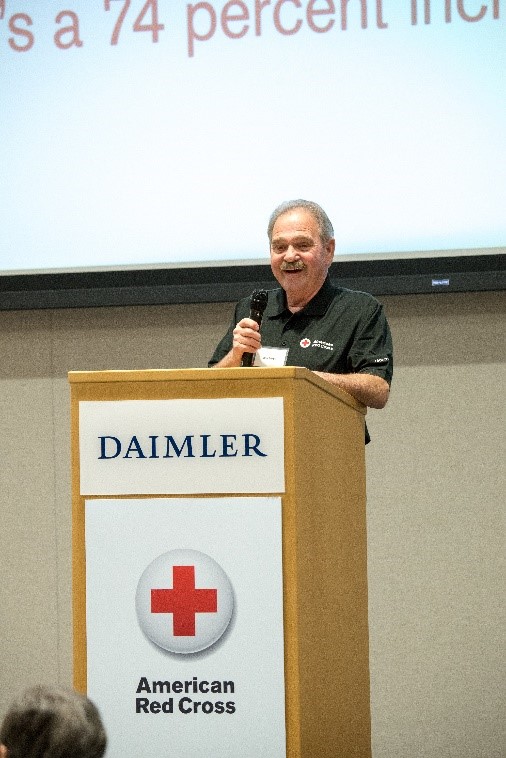 Rob Burby, Disaster Responder
Ron joined several speakers at a special
Red Cross Volunteer Appreciation event one evening in late January.
The gathering was hosted by Daimler Trucks
North America at their headquarters on Swan Island.
Ron was one of dozens of responders who were
deployed to relief operations in 2017, and he represented that collective voice
at the event.
For the Red Cross in Oregon and Southwest
Washington, deployments in 2017 increased more than 74% compared to those in 2016.
And this doesn't include the number of local
responders who stayed put and continued to support victims of home fire
disasters by providing shelter, food, water and other forms of assistance.
Daimler's appreciation event honored all of
the regional Red Cross responders who worked tirelessly in 2017.
It also culminated a year of giving in which
Daimler raised $1 million to benefit the American Red Cross and the work of the
Red Cross to help people affected by disasters.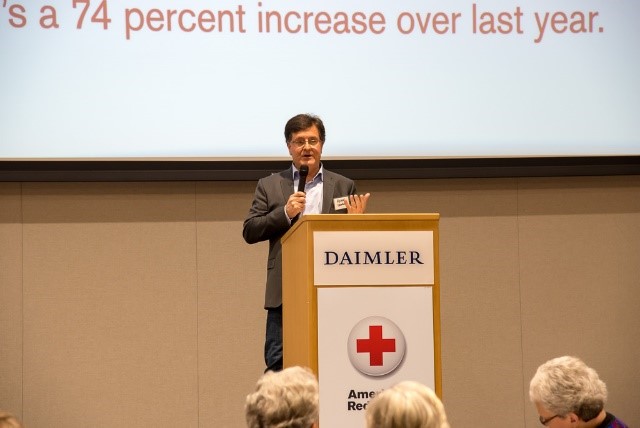 Richard Howard, Daimler
Richard Howard, Senior Vice President of Sales
and Marketing for Daimler said, "Our Volunteer Appreciation evening is but one
small token of our appreciation for the people who work extremely hard to make
a big impact. This is our way of saying thank you."
Volunteer Mike Olson, another speaker at
the event, said that he was looking for something to do in retirement when he
decided to drive his first ERV in 2016 on behalf of the Red Cross. In 2017, he
and his wife, Cathy, were deployed several times in support of wildfires and
hurricanes. "Every deployment is different," he says, "and we meet great people
everywhere we go."
Cathy agrees. "I love helping people," she
says. "I work to give a lot, but I get so much more out of this work than I
ever give." This Eugene-based couple traveled the country in 2017 to support a
variety of needs. Then they came to Portland to share their stories with other
volunteers, as well as representatives from Daimler.
Jessica Chapman, Regional Program Manager
for Service to the Armed Forces and International Services, was also deployed at
several disasters.
"I went because
people needed help after Houston and our volunteer base was tired. I asked to
go to Florida as a registered disaster volunteer," she said.
Although the country's mega disasters required many of our responder volunteers, we also sent volunteers to help our local residents. One of the attendees at the Daimler event was
Jimi Hardin, a Portland resident who recounted how the Red Cross installed smoke alarms in his home and helped his family develop a fire escape plan, Fortunately for Jimi and his family, the alarms and escape plan were in place before the fire in their home occurred. When the family heard the alarms go off, they used their escape plan to flee their burning home unharmed.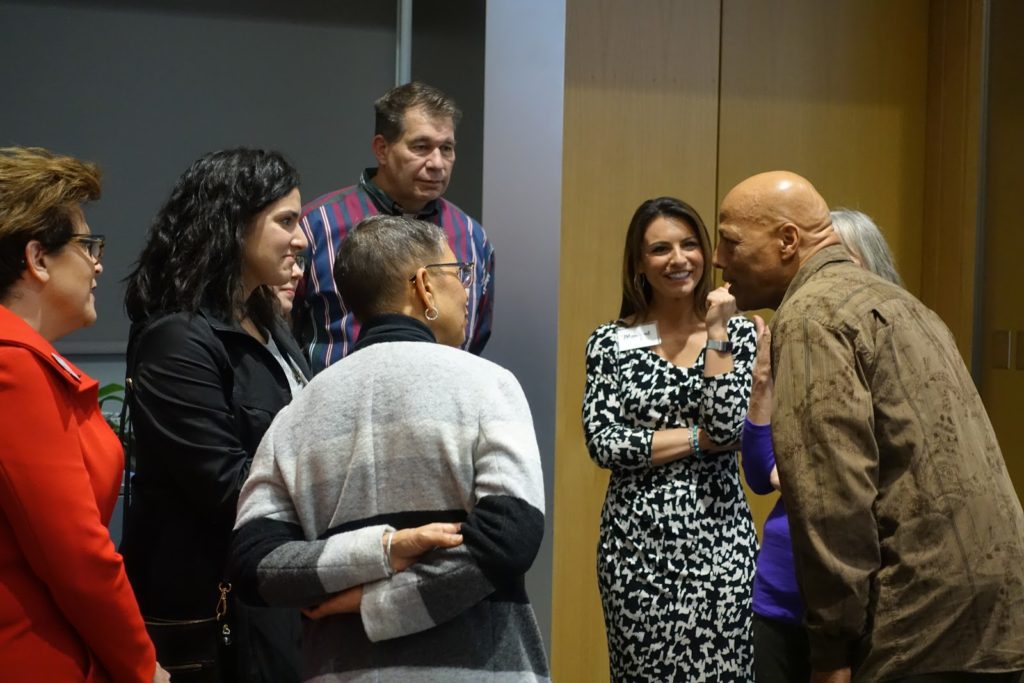 Representatives from Intel and the Red Cross Listening to Jimi's Harrowing Story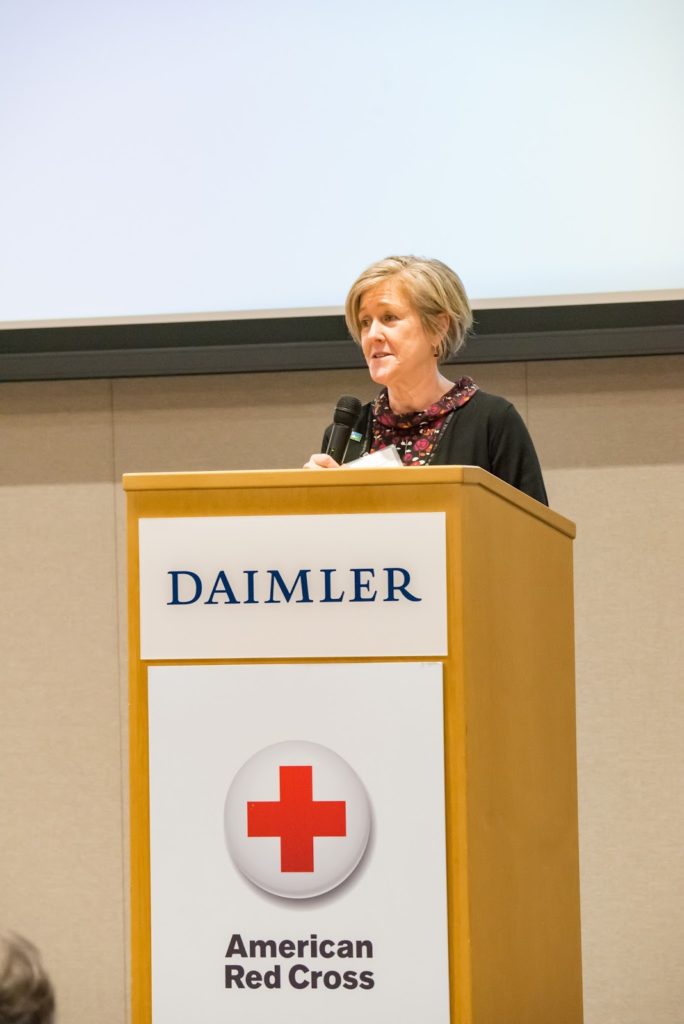 Candace Horter, American Red Cross
Summing it up after volunteers recounted
their stories was Candace Horter, Cascades Region Chief Executive Officer.
"I want to thank each and every one of you.
We are here tonight to celebrate you. We've had no shortage of disasters—from
massive wildfires to a major train derailment," Horter said. "In 2017, we saw a
13% increase in disasters and a 26% increase in the number of families served
by the Red Cross compared to previous years. This includes home fires."
She added this stunning fact: "The Red
Cross sheltered more people in 2017 than we did in the past five years
combined."
The Red Cross's ongoing need to supply
relief to people in disasters is what makes partnerships such as the one with
Daimler, parent company to Freightliner Trucks, so important to local Red Cross
teams. Daimler's $1 million donation, combined with another similar donation
from tech company Intel, will help the Red Cross continue to meet its mission
in the coming months and years. But the night's event wasn't about money. It
was about people.
"It's about human kindness," Horter said. "The
people in this room deserve our appreciation because they wear kindness on
their sleeves every day."
Thank you again to our wonderful volunteers
and to our corporate partners Daimler Trucks North America and Intel.