'Gratitude Bots' Fill Red Cross Workers with Inspiration During COVID-19 Pandemic
Story by Hannah C. Wood / Red Cross Cascades Region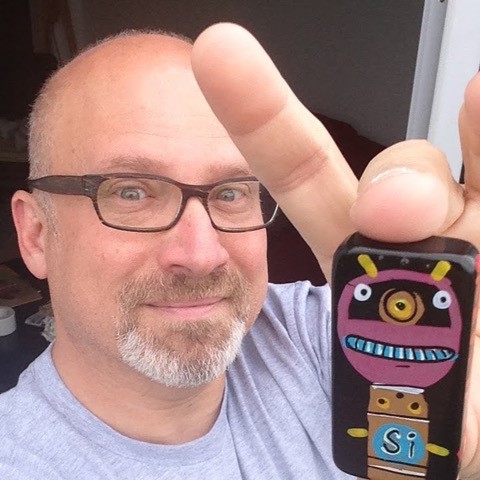 Gary Hirsch is a local artist who has created over 57,000 so-called "Gratitude Bots."
As Hirsch describes, they are designed to provide energy, happiness and other positive emotions to those who receive them.
Now, during the COVID-19 pandemic, he is painting and donating 130 Gratitude Bots for Red Cross phlebotomists working in Oregon and SW Washington. Phlebotomists work on the front-lines collecting blood from donors.
Gratitude Bots carry an inspirational message to remind those who receive them that someone out there cares about them. The Cascades Red Cross Blog caught up with Gary on what inspired him to create these Bots and how he hopes people feel when they give or receive them.
What's the idea behind the Bots?
The Bots are small (and sometimes, big) totemic, art objects programmed to help. I wake up every day thinking about how art can help and the Bots have been my vehicle for doing this in a delightful and surprising way.
I experiment with the Bots by making thousands of them painted small on the back of dominos (most recent Bot count is 57,456), and a few painted giants on the sides of buildings as murals.
When did you start making the them?
I started making Bots about 10 years ago. The Gratitude Bots came when Covid-19 hit. I wanted to do something to thank the people on the frontlines who are sacrificing so much to help us out in the world as we stay at home.
What do you hope people feel when receiving a Gratitude Bot?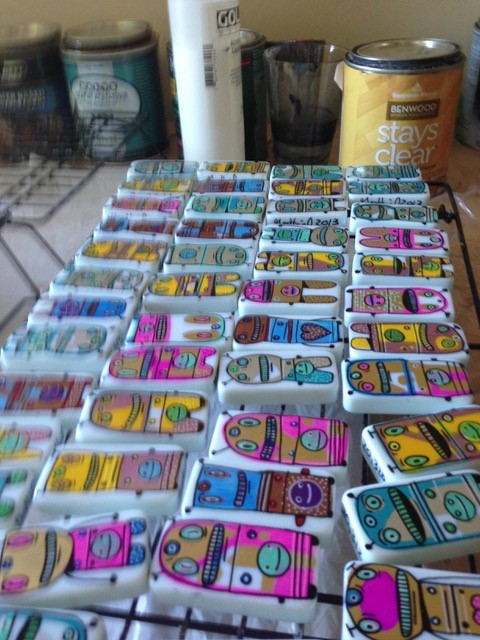 I am interested in small shifts and reminders. If someone gives you a Gratitude Bot, my hope is that you will take a moment, a pause to take in that gratitude so it can be fuel for your amazing work when things get hard.
What's the response when you see people receive them?
It's been amazing. I got requests for over 400 Gratitude Bots in the first two weeks for folks that are working on the medical frontlines. These are being requested by people that want to thank medical frontline workers in their lives. My real hope is that people will start making their own Bots to thank those in their community that way as well. I have step-by-step instructions on my website for how to 'Steal the idea" and make your own.
What inspired you to want to share them with nonprofits and those working on the front lines during this COVID-19 outbreak?
I know that art can be a powerful tool for expressing gratitude and these little dominos seem to help in ways that are still mysterious even to me. I think they are a simple reminder that people out there care and have mountains of gratitude, even when things feel bleak and hopeless.
How are the Bots usually delivered to these special people?
Folks contact me and then I have instructions for picking them up (I put them out on the "bot fence" outside my studio). In turn, these folks give them as thanks to frontline workers that they know or know about. It becomes an artistic way to say thanks.
You're encouraging others to create their own versions of Gratitude Bots. What motivates you to do that?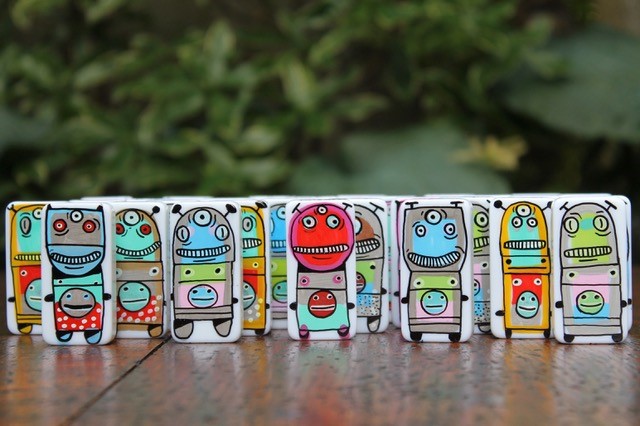 In 2013, I was making all sorts of different Bots (Joy, Listening, Inspiration, Love, Luck, Collaboration) not only for kids but for organizations like Nike, Intuit, Apple, Mercy Corp, and other groups with which I was working. I started to get more requests then I could possibly handle and I realized very quickly that I had a problem – I was a bottleneck. If I wanted others to experience the bots, I couldn't make every one of them myself.
So in the summer of 2013, I invited the world to steal the idea of Botjoy. I made a step-by-step video that spelled out exactly how to make a domino robot, posted it on the botjoy.com website with the headline "Steal This Idea" and before I knew it, the world accepted my offer!
Where did the inspiration for Gratitude Bots come from?
When I was growing up, I had a lot of nightmares. On these nights, my Dad would sit next to me with a pen and paper and ask, "You want to draw what you're afraid of?". We would stay up for hours. I would draw these creatures and my Dad would help me name them. One night my Dad said, "If you can create them, then you can also make them go away". He handed me an eraser and I started to erase the nightmares. After a while, they came less frequently.
This story still influences my art today. The Gratitude Bots are little creatures that help people feel better, like the drawings of my nightmares. I am deeply interested in how art can help.
I make all sorts of Bots – big and small – to explore this idea.
Any other projects that you'd like to mention that you're working on?
It is coming up on mural season in Portland (when you can count on the rain to stop). I am always looking for building owners who are interested in colorful, positive street art. I donate my time on these so I usually take in requests during May, choose in early June, and then begin painting. If any readers have candidate walls, I am excited to learn more.
Thank you Gary!
To learn more about Gary Hirsch and the Bots, visit botjoy.com or @ghirschbotjoy on Instagram.