How Oregonians Can Help the Midwest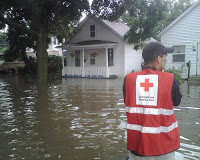 At this point, we've sent eight local volunteers to Wisconsin, Iowa and Indiana, as well as one more to the Red Cross national disaster operations center in Washington, D.C.
The one at the DOC will be helping with the overall coordination of relief efforts in the Midwest…it's not every day that our little chapter gets to send someone to help with such a big job.
I just wrapped up an interview with Tim Joyce over at KOIN about how Oregonians can get involved. Here are some quick thoughts:
1) Think about becoming a disaster volunteer.
After you pass a background check and get some basic training, you can deploy all over the country to help out others in their time of need. Just think about how much we appreciated the volunteers who came to Oregon to help with the December floods…that's how much you'd be appreciated in Florida or Michigan or Montana.
2) Register on Safe and Well.
We encourage those affected by disasters to register their status on the Safe and Well Web site so loved ones can know they are safe. Here in Oregon, if you're concerned about someone in the Midwest, check Safe and Well to see if they're okay. Or, if you hear from a family member that they're fine but have no access to a computer, go ahead and register them on Safe and Well yourself.
3) Consider making a financial donation to the Red Cross Disaster Relief Fund.
The Red Cross has had an incredibly busy few weeks, with floods, tornados, wildfires and the start of hurricane season. We've already spent tens of millions helping those who have lost everything with shelter, food and support. If you want to donate specifically to the Midwest Floods and Tornadoes, you can do that as well. You might also consider that a donation to the Oregon Trail Chapter itself is what enables us to get local volunteers trained to help all across the country.
Things aren't getting better in the Midwest. When you hear words like "historic" and "record-setting," it's not a good sign. Now we're pre-positioning supplies and getting ready to open shelters if floods continue moving south along the Mississippi River. You can stay aware of updates here.
We pay a lot of lip service to "saving and rebuilding lives down the street and across the country," but as we're spending today helping in both Beaverton and Iowa, it's clear we really mean what we say.