Storm Watch '08: Veteran's Day Disaster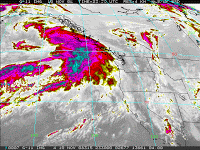 Within 72 hours, we'll have four significant storms bearing down on our area. There could be flooding, high winds, power outages and even landslides. It's the kind of thing that the news stations will probably give a name to…something like, Storm Watch '08: Veteran's Day Disaster. Those guys are so dramatic.
But they have a good reason to be. Here's the update from our Emergency Services folks:
Four significant weather systems will be producing significant amounts of rainfall over Oregon and Washington beginning early Tuesday, November 11 through Thursday, November 13. The heaviest rainfall is expected to span from Lane County, Oregon into British Columbia. Coastal range areas will experience 2-3 inches daily and valley areas 1-2 inches daily.
Ocean seas will be 18 to 20 feet, producing coastal tides of 10-11 feet. Coastal winds will be 55 to 65 mph during peak periods.

Oregon rivers are not currently expected to exceed flood stage; however National Weather Service predictions are subject to change as the storms arrive. Peak river cresting is forecasted on Wednesday, November 12.

Urban flooding is possible in low lying areas, especially areas with a high amount of fallen leaves blocking drainage systems.

Landslide potential is highest in forest burn areas such as Gnarl Ridge on Mt. Hood, and Kitson in Lane County. Portland area hillsides experiencing prior land movement will be closely watched.
We're not just sitting around twiddling our thumbs over here. Our Chapter is contacting county jurisdictions and emergency management officials to assess potential needs and determine the level of relief response anticipated. We're also providing advisories to our disaster volunteers and partner organizations.
But the bottom line is that the weather is going to be bad, bad, bad. And you should start now with getting prepared, prepared, prepared. Here are some ways to do it:
For a broader overview of how to get a kit, make a plan and be informed, visit www.oregonredcross.org/beredcrossready.
Photo courtesy of the National Weather Service