What Are Your Holiday Plans?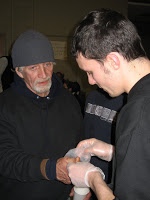 First, the good news.
We've had lots of people step up to the plate and our emergency warming centers have had plenty of volunteers to help staff them every night that they've been open. As of now, that's SIX nights in a row, folks!
But if you're interested, there's still time to check out Hands On Greater Portland and sign up for the EWC volunteer orientation that's coming up on Saturday.
I tell you this mainly because we're getting close to the holidays and, with people out of town and some very unpredictable weather, we MAY need all hands on deck come Christmas and New Year's. And, quite honestly, we just might not have enough hands.
So if you happen to not celebrate Christmas and want to do a good deed, sign up for Saturday's orientation and get trained now. We may just need your help.