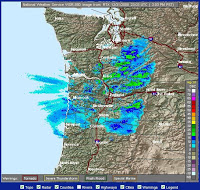 Have you been watching the weather forecast for the next few days? We have and here's a snapshot of what we're seeing…
On Thursday morning, a warm front moves in, bring 60 mph winds to the coast and up to 7 inches of rain in the coastal range. By Thursday night, there's a cold front, bringing 80 mph winds and real flooding potential to coastal communities.
To top it all off, Friday might bring anywhere from 1-3 inches of snow at elevations above 500 feet.
Other tidbits: Here in Portland, we'll be hit with 40-60 mph winds and at our ski resorts? Closer to 90 mph. Wow.
The Red Cross is getting prepared by watching the weather and talking with our partners. We want to see what needs they anticipate and what we might be able to do to help.
YOU can start getting prepared by reading up about flood safety and what to do when the power's out.