Jan. 9: What We've Been Up To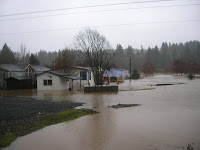 Since things are still busy around the Chapter, I thought I'd give a little rundown on what we've been up to today.
First, as I alluded to yesterday, we wound up bringing blankets over to about 120 stranded travelers at Portland's Greyhound station.
Around noon, we closed the shelter in Clatskanie. We hadn't had anyone overnight (and only two people the day before), so the timing was right. Of course, if anyone in the area still has needs as a result of the flooding, they can call the Chapter (503-284-1234) at any time for assistance.
Then, we got a call for help with the flood response in Washington. We've since deployed one of my very favorite volunteers up to Tacoma to help.
And finally, we're now sending out volunteer teams to do a little damage assessment. We want to make sure we've identified all the homes in places like Clackamas County that could use our help, so we're driving through the neighborhoods to check out the damage. If we find more people in need, we'll be able to get started on client casework.
P.S. Just because it's Friday, don't think our work is over. We keep an eye on the weather and help those who need assistance 24/7.