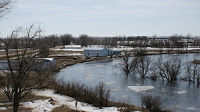 Did you know that it's Flood Safety Awareness Week?
I'm sure you did, as floods are one of the disasters most likely to affect our area. Just think back over the last few winters and remember communities like Vernonia for a prime example.
Interestingly, our twtpoll seems to imply that you are not frightened of floods. We're used to rain around here, so maybe you're thinking that a little extra water can't hurt anything. Well, take a look at what it's doing in North Dakota right now. Maybe more than 3% of you should be worried, hmmm??
Here are a few links for your reading pleasure:
Red Cross online newsroom (North Dakota floods)
Flood Safety Awareness from the National Weather Service (lots of great links!)
Our flood safety tips
To all of the Red Crossers and others helping in North Dakota — stay safe!
Photo courtesy of Barbara Rainey via CNN