Meet Loki, The Camping Cat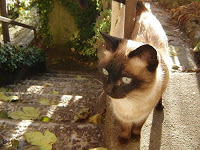 Loki loved to go hiking and camping. By the time she was 6, she had been up and down the West Coast and seen everything from deserts to mountains.
This might not sound unusual…but, keep in mind, Loki is a Siamese cat.
Today's pet parents take their companions just about everywhere with them…from Crater Lake to the Oregon Sand Dunes. And one of the tips this article suggests is that — aside from backpacks and tents and water bottles — you should probably pack a copy of Pet First Aid.
You can buy the book from our store or you can also sign up for a class. Either way, if you're taking your pet into the wilderness, it pays to be prepared.
Image (but not of Loki) courtesy of Victor De Seekka.