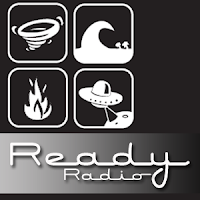 Yesterday was the debut episode of our new internet radio show/podcast, Ready Radio!
The show is all about preparedness – making it relevant and fun while giving you practical tips for practically anything. (Yes, that's a catchy tagline we came up with. You like it?)
Give it a listen
. You'll hear interviews from a card game connoisseur and the makers of Cougar Gold canned cheese – the tastiest prepare-aphernalia in the Northwest. You'll also learn a thing or two about treating kitchen knife wounds and how you can learn CPR while wearing your pajamas.
Lise and I will be hosting the Ready Radio series – kindly produced by Portland's own Small Plate Radio Network – every other Thursday at 1pm. (Which means the next one will be June 25th. ) You can listen live online – and even IM us questions – at that time. Or afterward you can listen online or on iTunes.
We hope you enjoy it. Let us know what you think. Critiques and suggestions are welcome!