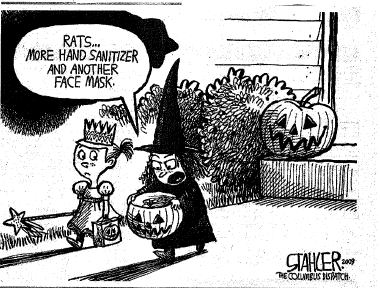 Hey, trick-or-treaters. Did you spot any houses actually handing out hand sanitizer last weekend? I'm pretty sure that your dentist, your doctor and I all agree that it wouldn't be such a bad prize to find amongst all your fun-sized, full-of-sugar, finger-food.
They bust myths about:
– The effectiveness of masks.
– The origins of H1N1
– "Swine Flu Parties" (**shudder**), and more.
Oh, and be sure to watch their icky, but impressive public service announcement about flu prevention. (
Sleeve sneeze
, people. Sleeve. Sneeze.)
P.S. If you're looking for flu supplies, we do sell
germ guard packs
that come with masks, gel and sanitizing wipes.
Thanks to Stephanie, our Health & Safety Director, for forwarding me the cartoon!