Civil War Blood Drive Update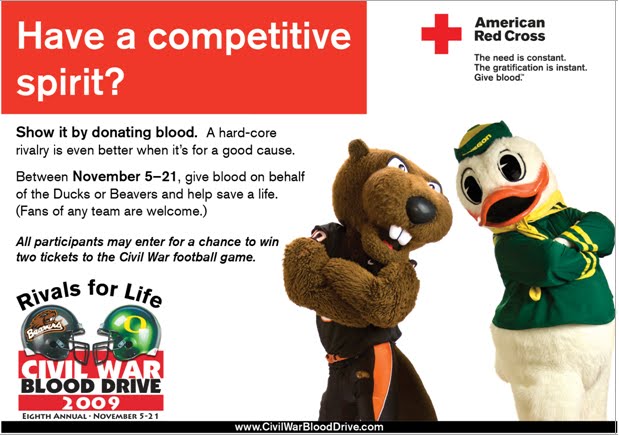 Duck fans, where are you?? Get out of the pond and donate some blood!
OSU is currently dominating the Civil War Blood Drive with 2,221 OSU votes to 1,047 U of O votes. A blood drive this week at the OSU campus brought in a total of 1,013 votes for the beavers—an incredible, record-setting turnout!
Don't worry, ducks, there's still time to catch up. UO will be holding a blood drive next week (November 17-21) in the EMU from 10 am-4 pm. Make your appointment right now (DO IT!). Don't forget that Red Cross gives you free post-donation snacks (the perfect way to fuel your brain between classes).
Even if you're like me and totally lack school spirit, you can still help save lives during the Civil War Blood Drive. Call 1-800-GIVE-LIFE to make an appointment to donate blood at a Red Cross blood drive. If you live in the Eugene area and would like to donate blood, click here.