Save The Bunny, Take The Survey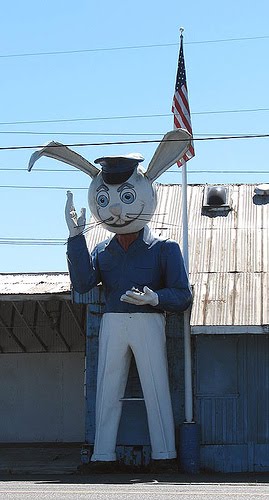 Over the weekend, I went to Forest Grove.
Sure, this might not sound exciting, but it was a chance to drive by the Harvey's Marine rabbit and check out McMenamin's Grand Lodge. Better than that, I got to spend the day tasting sake (and yummy saketinis!) at SakeOne, the world's only American-owned-and-operated sakéry and the leading producer of "Ginjo" (premium) grade saké in the U.S.
From the bunny to the hotel to the rice wine, each of these places are important to Washington County — especially from a tourist and preservationist perspective.
And there are many other important people, places and things from Banks to Beaverton that also need protection from natural disasters.
So now's the time to share your thoughts:
How would an earthquake or flood impact Washington County?
Are there culturally significant buildings that might be at risk?
What can the county do to reduce the risk for elderly or school-age populations before a disaster occurs?

Read a little bit about the Natural Hazards Mitigation Plan and then take the survey.
Do it for the bunny, guys.
Photo courtesy of the awesome folks at Vintage Roadside, who have two tees from vintage Oregon locales!