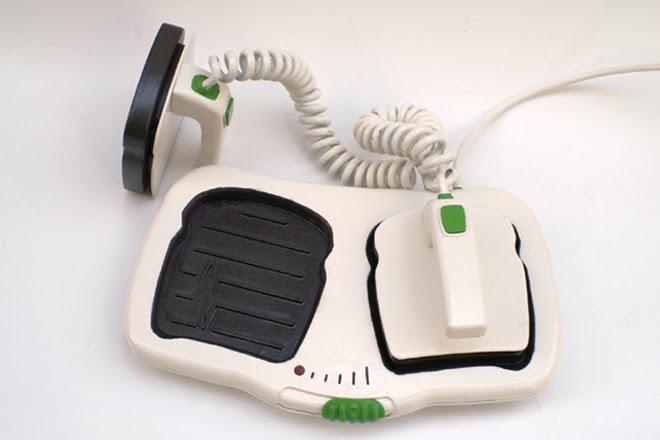 If you've been reading this blog for a while, you might know that while I am a foodie, I am definitely not a chef.
Take, for example, this conversation that will live on in infamy. To set the scene, Robin was explaining that she had made herself a delicious breakfast of eggs and toast.
L: That sounds complicated.
R: It's just toast!
L: Toast is complicated.
I had good reason to say this — toast requires getting the bread, putting the bread in the toaster, turning it on, waiting impatiently, pulling the bread out, buttering said bread and then perhaps slicing it in triangles. Yogurt, on the other hand, is grab and go.
While, for me, toast is far to complex to have for breakfast, you might think otherwise. And if there's anything that would make toasting bread something to look forward to, it would be owning this AWESOME toaster.
The Toast/E/R Defibrillator gets you your toast, STAT. And operating this particular defibrillator doesn't require advanced AED training or certification — just stick in your slices and go.
If this wasn't simply a concept, I'd probably buy one…but like all my fancy kitchen appliances, it would probably just sit there — unloved and far too complicated for every day use. Sigh.