Check In On Foursquare When You Donate Blood!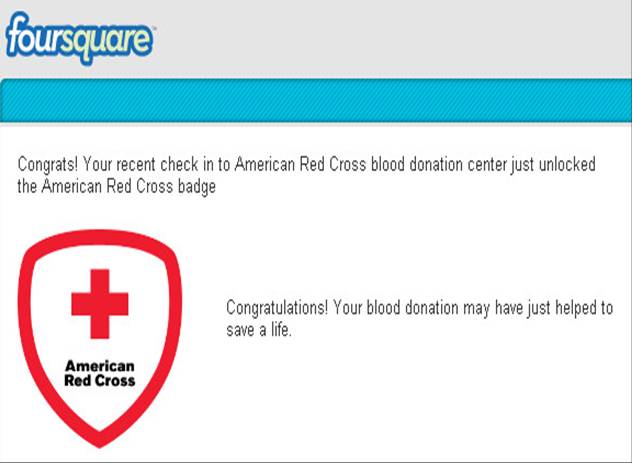 Smartphone user? Apparently, this means my phone is "dumb," but for those with more cell phone firepower, today marks the launch of an exciting new foursquare app for blood donors!
For those that don't know, foursquare is a geolocation tool that serves as a friend-finder, social city guide, and a game that challenges users to experience new things such as donating blood. It also rewards them for doing so.
Starting today, you can unlock a special badge on foursquare by "checking in" to your blood donation location and then using a combination of the words "blood" "donate" and "Red Cross" when you "shout" what you're doing at the "check-in" location. You must use the words "blood" and "Red Cross" along with any form of the word "donate" (i.e. – donate, donated or donating).
For example, a blood donor might walk into a college blood drive, "check-in" to the student center, and then "shout": "I'm donating blood with the Red Cross" in order to unlock the Red Cross blood donor badge. The donor's "check-in" and "shout" can also be shared with friends on Facebook and Twitter.
The foursquare app is available for BlackBerry, iPhone, and Android. Go forth, donate, and be rewarded!