Surviving An Emergency that Required No Toilet Paper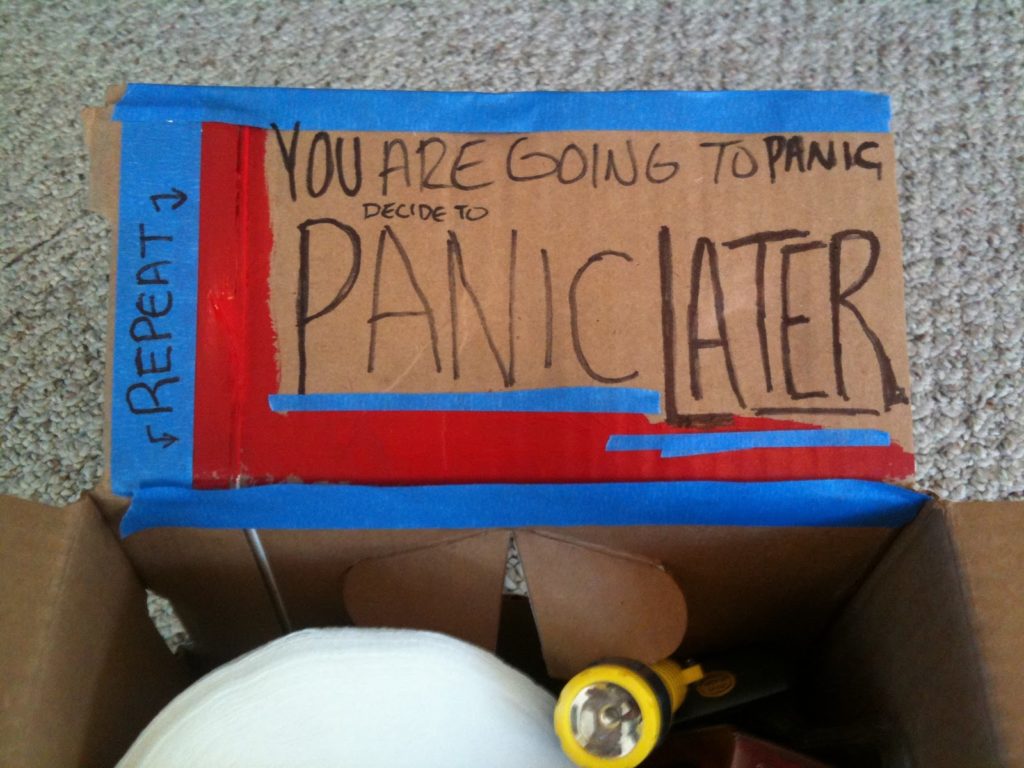 My Emergency Prep. Kit: Made out of a Widmer Beer box. Ready to help you calm down.
On a recent sabbatical, I experienced the kind of family emergency that requires no canned foods, protein bars or radio. As a result, I reached into my emotional emergency preparedness kit which is based on: (1) Lifeguard training, (2) a false alarm in a hotel throughout which I screamed "I'm too young to die," and (3) a Fireman's advice.
The first, Lifeguard training, propelled me to isolate the victim's movement and call 911.
The second and third are closely related through a thread of panic.
As an 8 year old, I responded to the supposed fire with a natural, albeit highly unhelpful panic reaction. Panic fuels the fire of an emergency. Luckily, it was the advice of a Fireman (AKA my Grandpa Al) that ultimately made me a helpful partner in the emergency at hand.


The Advice?
"You are going to Panic, Decide to Panic Later."
The goal of this message is to get you to stop reacting, and start acting (Roddey, 2011).
The goal is to help you focus on the task at hand AND the next step towards your safety.
"Panic Later" became my mantra I yelled at myself over and over as I followed the ambulance to the hospital. My only job was to arrive safely to accompany my family through the scary ER and what turned out to be a successful recovery.
"I Want to Panic, But I'm Going to Panic Later." This should be your mantra during an emergency.
Repeat it, and teach it to your kids and friends.
I suggest placing the phrase "Panic Later" on the inside of your emergency
pack and repeating it when you are inevitably scared and upset as an
emergency rears its ugly head.