Superstars of the Civil War Blood Drive
Students Shahnaz Mooney and Sarah Lowe prove that "leadership is life" with their volunteer efforts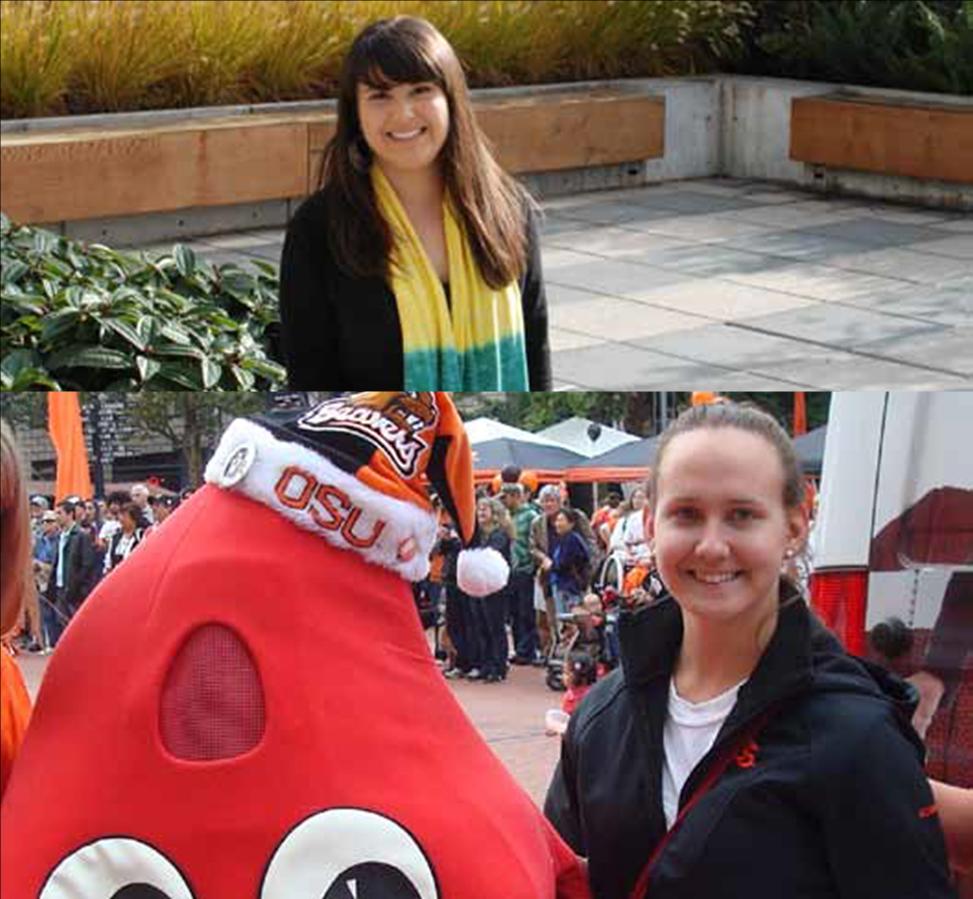 Of the millions of lifesaving blood donations made each year to the Red Cross, almost 20 percent come from high school and college drives. Two dedicated students have taken this statistic to heart. Shahnaz Mooney, from the University of Oregon, and Sarah Lowe, from Oregon State University, attend schools engaged in one of the nation's oldest rivalries dating back to 1894.
These two volunteers have spent the past few years coming together to bring that 117-year-old competition, known as the "Civil War," to the playing field of campus blood drives. With the statewide Civil War Blood Drive completing its tenth anniversary in 2011, fans, students, and alumni have spent over a decade donating more than 66,500 units of blood and platelets on behalf of the Beavers or Ducks.
On the campuses alone, OSU continually earns the title of largest single event blood drive for the region and participation at UO has climbed four-fold to match the challenge. Whether fans bleed green or orange, the real winners of the competition are hospital patients in need of transfusions during the winter months.
Many people help facilitate the success of these drives, yet without passionate student leaders like Sarah and Shahnaz, these numbers simply wouldn't be possible. The Red Cross coordinates with these volunteers through their campus Blood Drive Association (BDA). With several hundred donors attending the drives, the BDA provides the publicity, volunteer training, and recognition efforts that connect the campus with the importance of donating blood.
"I've always really wanted to donate," Shahnaz exclaims, "but because of deferrals from travel and the minimum weight criteria, I've always volunteered instead!"
Evidence of both students' altruism began when they were much younger. Sarah embarked on her philanthropic path to volunteering as early as six years old, baking cookies at her church blood drives. She continued her efforts through blood drives at Newberg High School.
"The first time I gave blood was at my OSU orientation," Sarah recalls. "The school energy surrounding the drive was so exciting to be a part of."
Sarah quickly became BDA Vice President of Publicity and Director of Greek Recruitment. Her leadership efforts have led to her current position as President of the BDA and, in spring 2010, she began serving on the Pacific Northwest Blood Services Region Board of Directors. Sarah also takes active roles with Greek life, volunteers as a sexual assault prevention educator, and holds a part-time job in the campus union.
Following a similar path, Shahnaz traced her volunteer efforts back to when she was just 14. "I actually still have a Red Cross blanket I keep nearby," Shahnaz laughed.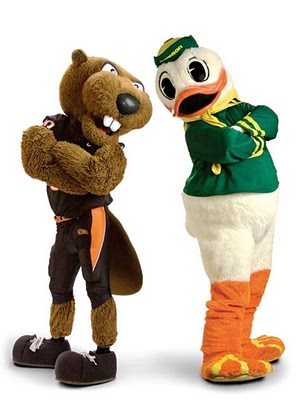 She carried her volunteering experience into Sherwood High School, supporting blood drives and earning the position of Freshman Class President. She then continued to hold Associated Student Board leadership roles until she became Student Body President, capping off her high school career by delivering the introduction for graduation. She was even awarded a Red Cross scholarship for her volunteer efforts with the High School Blood Drive Challenge program.
Even in her "off days" during summer break, Shahnaz volunteered countless hours supporting the "Music Saves Lives" Warped Tour blood drives and the Celebrate Freedom drive in Portland, earning her further recognition from regional leaders of the Red Cross.
Both schools have strong reputations for bringing in donors. Shahnaz attributes this to the culture at the universities, saying that "whether the students see banners, fliers, and table tents around campus, or are enticed by Buddy the Blood Drop, they all donate for the same reasons; to assist those in need, and to show school spirit."
Sarah agrees, stating "The trophy and blood drop mascot make it fun to participate. It was amazing to see nearly a thousand donation appointments booked by the time of the first OSU campus drive this year."
The pair has made volunteering a lifestyle; their experience and compassion will bring future blood drives to the next level. "The drives can only get bigger," Sarah said. "I have faith that we'll do great things in the future."
"Everyone involved in the drives shows genuine care," Shahnaz said. "Any way I can help the Red Cross, I will."
Every year, thousands of student leaders across the country organize American Red Cross blood drives at their schools. For Sarah and Shahnaz, perhaps the fact that they're now leading blood drives at rival colleges is for the best: although close friends and former sorority sisters, with the pair's remarkable leadership and vision, one university may not be big enough for the both of them!