March is Red Cross Month: Thank you, Volunteers!
Story by Colleen Hathaway / Red Cross Cascades Region
March is Red Cross Month: Thank you, Volunteers!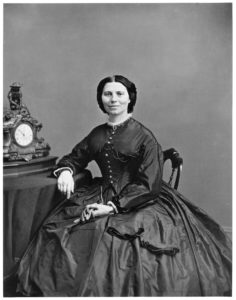 Franklin D. Roosevelt first proclaimed March as Red Cross Month in 1943 to honor volunteers who carry out our lifesaving mission; to prevent and alleviate human suffering.
Every U.S. president since has continued the tradition, recognizing the contributions of people of all ages, backgrounds and ethnicities who come from a common place of compassion and service, infusing hope into our communities in their time of need.
In fact, volunteers carry out 90% of the humanitarian work of the Red Cross.
While many know that Clara Barton founded the Red Cross in 1881, there is much more to know about our rich history. For example, in the 1990's, the Red Cross expanded services into such fields as civil defense, CPR/AED training, HIV/AIDS education, and the provision of emotional care and support in the wake of disasters.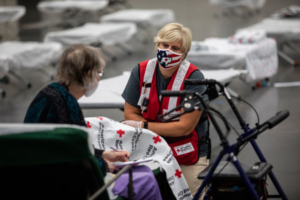 The Red Cross has also been shaped by the contributions of people of color and the contributions of young Americans.
In 2020, more than 3,000 Cascades Region volunteers fulfilled the mission of the Red Cross, helping families recover from more than 650 home fires by meeting urgent food, lodging and other vital needs.
When the September 2020 Oregon wildfires devastated our region, volunteers from here and across the country stepped up to provide 173,489 overnight stays, 387,590 meals and snacks, 9,955 relief items, emotional support, recovery planning and other essential assistance.
Blood donors rolled up their sleeves to give more than 148,500 units of blood in the Cascades Region, when our country faced a severe blood shortage.
So what inspires people to volunteer? We reflect on some stories from this past year to answer that question: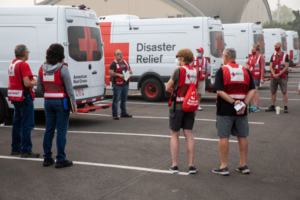 Every year we celebrate this humanitarian spirit during March, Red Cross Month, and ask you to join us. Last year, more than 70,000 people nationwide became new volunteers to support urgent disaster and essential blood donation needs.
There are so many ways to volunteer, whether donating blood or platelets; helping people affected by a disaster; taking a first aid or CPR class; or providing comfort to a member of the military, a veteran or their family.
At the Red Cross, people of all ages, ethnicities and backgrounds are welcome.
Visit https://www.redcross.org/local/oregon/volunteer.html to find out how to volunteer.
Thank you volunteers. You are our heroes!
"We are the Red Cross. Sleeves Up. Hearts Open. All In."