Saving the Galaxy One Pint at a Time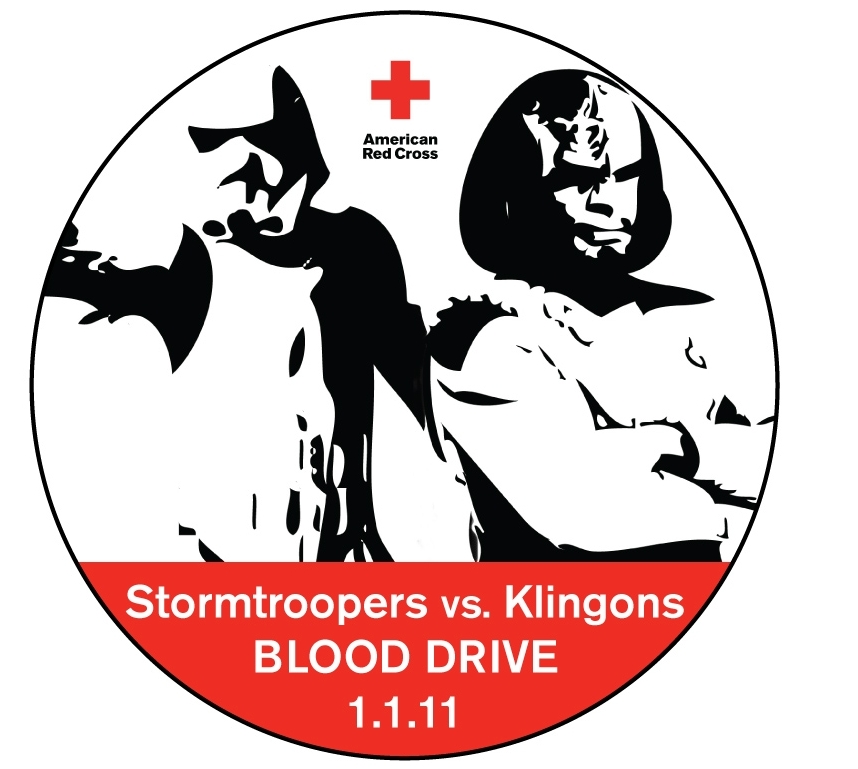 On January 1, 2011, the Red Cross will host an epic battle between the ultimate galaxy warriors: Stormtroopers vs. Klingons! Blood and platelet donors from the greater Portland area will be called upon to choose their side in the intergalactic showdown!
This first annual galaxy blood drive will take place New Year's Day at the Portland Donor Center and will run from 9 a.m. until 2:30 p.m. On site and available for photo opportunities will be members of "The 501st Legion: Vader's Fist" and "The Klingon Assault Group (KAG)."
Every presenting donor will cast their ballot for the Stormtroopers or the Klingons, and the side with the most votes will walk away with the Galaxy Drive Trophy! In addition, donors will be given buttons (like the above graphic, plus Star Wars/Star Trek only styles), shirts and can enter into a drawing to receive one of several gifts, including: a one-night stay at the Columbia Gorge hotel, a "Tauntaun" sleeping bag, two $25 gift certificates from Gartner's Meat Market, a Mary Kay package and more.
To participate, here's how it works:
1. Call (503) 284-4040 to register as a donor for the "Saving the Galaxy One Pint at a Time" blood drive on January 1, 2011. Donor appointments are not required, but are preferred.
2. All interested participants can also register online by visiting www.redcrossblood.org. Please use the sponsor code "stardrive" to register for the "Saving the Galaxy One Pint at a Time" blood drive on the Internet.
Blood donors must be at least 16 years old (16 year-olds require a signed Red Cross parental consent form) and meet minimum height and weight requirements.
Galaxy domination is yours for the taking! …Whose side are you on?